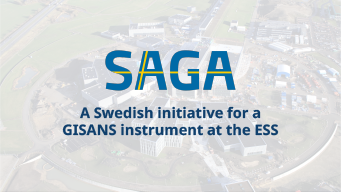 SAGA – A Swedish initiative for a grazing-incidence small-angle scattering (GISANS) instrument at the ESS
The grazing-incidence small-angle scattering (GISANS) technique enables the full structure and morphology of surfaces, films, and interfaces to be investigated.
SAGA is a concerted Swedish initiative, financed by Swedish Research Council (VR), based on the close collaboration and joint efforts of all the main Swedish research institutions with neutron activities.
SAGA strongly benefits from the complementary competence and resources that are at hand at the different academic institutions as well as close international collaboration.
For further information on the SAGA project please visit http://gisans.se
We invite you to a SAGA GISANS update meeting at Star Hotel in Lund on 4 October 2022 during the afternoon 12-17.
If you are not able to make it in person you can join via zoom:
Zoom meeting: https://lu-se.zoom.us/j/64674437315

The meeting will be held in connection with MAX IV and ESS user meetings. Star Hotel is the site of the MAX IV user meeting. The SAGA GISANS meeting is a separate event but we would also like to encourage you to register for MAX IV and ESS user meetings.
DEADLINE FOR REGISTRATION THURSDAY 29 SEPTEMBER 2022
Registration
Registration for this event is currently open.